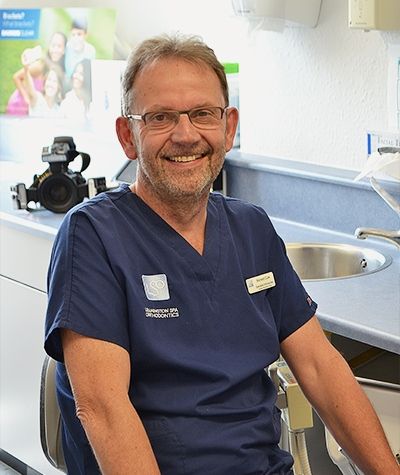 Richard Cure
Registered Specialist in Orthodontics and Director of Leamington Spa Orthodontics Ltd BDS (U Birm) MGDSRCS(Eng) FDSRCSEd FFGDP(UK) MOrth RCSEd PhD PFHEA FDTFEd
Associate Clinical Professor, The University of Warwick
Head of Dentistry Studies, The University of Warwick
Clinical and Course Director of Orthodontics, The University of Warwick
Principal Fellow of the Higher Education Academy, RCS Edinburgh
Fellow of The Faculty of Dental Trainers, RCS Edinburgh
GDC 52483
Richard is the founder of LSO and he leads the team at this multi-surgery Specialist Orthodontic Practice in Leamington Spa. During more than 30 years in Orthodontics, Richard has gained vast experience in all modes of treatment and different appliance systems. His expertise has led to regular lecturing, examining and research appointments in the UK and abroad, including North America, Scandinavia, Africa, the Middle East and Far East. He continues to publish papers in scientific journals, is a contributing author to The Oxford Dictionary of Dentistry, and currently writing a textbook on Orthodontics.
Richard is Head of Dentistry, Director of Orthodontics at the University of Warwick, Honorary Lecturer in Orthodontics at The University of Dundee, examiner for The Royal College of Surgeons of England, The Royal College of Surgeons of Edinburgh, The General Dental Council Overseas Registration Examination, and The University of Warwick. He is External Examiner for The International Medical University, Kuala Lumpur, Malaysia. He is a Member of Editorial Board of Primary Dental Journal of The Faculty of General Dental Practice (UK), a Member of the Honorary Editorial Board of Clinical, Cosmetic & Investigational Dentistry journal, member of the Editorial Board of the Journal of Case Reports and Studies, Research Advisor for the Faculty of General Dental Practice (UK) and was awarded a Winston Churchill Travel Fellowship in 1994 in recognition of his research work into the Management of patients with Cleft Lip and Palate.
He is a member of the Orthodontic Specialists Group of The British Orthodontic Society, The American Association of Orthodontists, The World Federation of Orthodontists, British Lingual Orthodontic Society, British Dental Association, Faculty of General Dental Practice (UK), British Society of General Dental Practitioners, Orthodontic Advisor to the Regional Area Team, vice-chair of Warwickshire Managed Clinical Orthodontic Network, member of West Midlands Orthodontic Reference Group and National Commissioning Working Group and a member of the Chief Dental Officer's Research Think Tank.
Richard is totally committed to the on-going development of LSO and continuing improvements in the care given to all patients. He is ideally qualified to be involved in the provision of integrated education for the whole of the Orthodontic team. The highest standards of training ensure that his dedicated, experienced team will provide an exceptional patient orthodontic treatment journey. LSO has achieved Investors in People and BDA good practice recognition as a mark of its commitment to such training and development.
Invisalign awarded Richard Platinum status in recognition of his considerable experience with the Invisalign system. He is pleased to be thought of as a thinking orthodontist, striving to move on to the next level in technological advances in treatment and is proud to be a recognised as a Damon system specialist, chairing regional study groups and lecturing internationally on its exciting clinical advances, providing scientific advice on product development. His enthusiasm in the pursuit of continuing improvement and excellence in Orthodontics is reflected in the practice ethos and service.
View Richard on LinkedIn