Emily's Smile Journey with LSO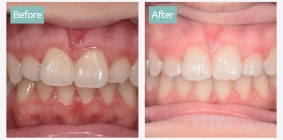 To read about our patient Emily's journey with us to a beautiful smile, please keep reading!

January 2019 (Bonding)
Today I started 'The Brace Journey'. As you can see from the images my main concerns are the crowding in my top six teeth, I also have an increased overjet (which affects the way the teeth bite together, my top teeth protrude).
Dr Cure suggested that the most beneficial appliance for my case would be a custom made Insignia self-ligating appliance. I chose to have the upper six teeth made with clear brackets as these are the only teeth that show in my 'smile line'.
For the braces to be fitted it took just under an hour, and it was completely painless! I also had 'bite turbo's fitted on my upper molars (circled) to ensure I wasn't biting on to any brackets which could cause them to come off.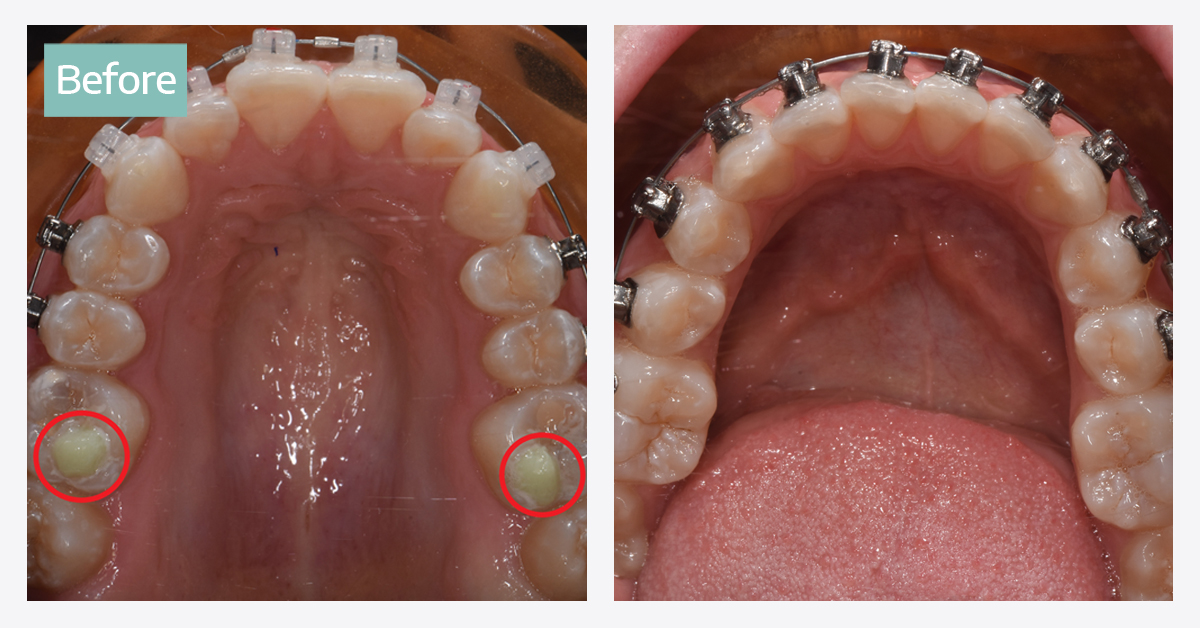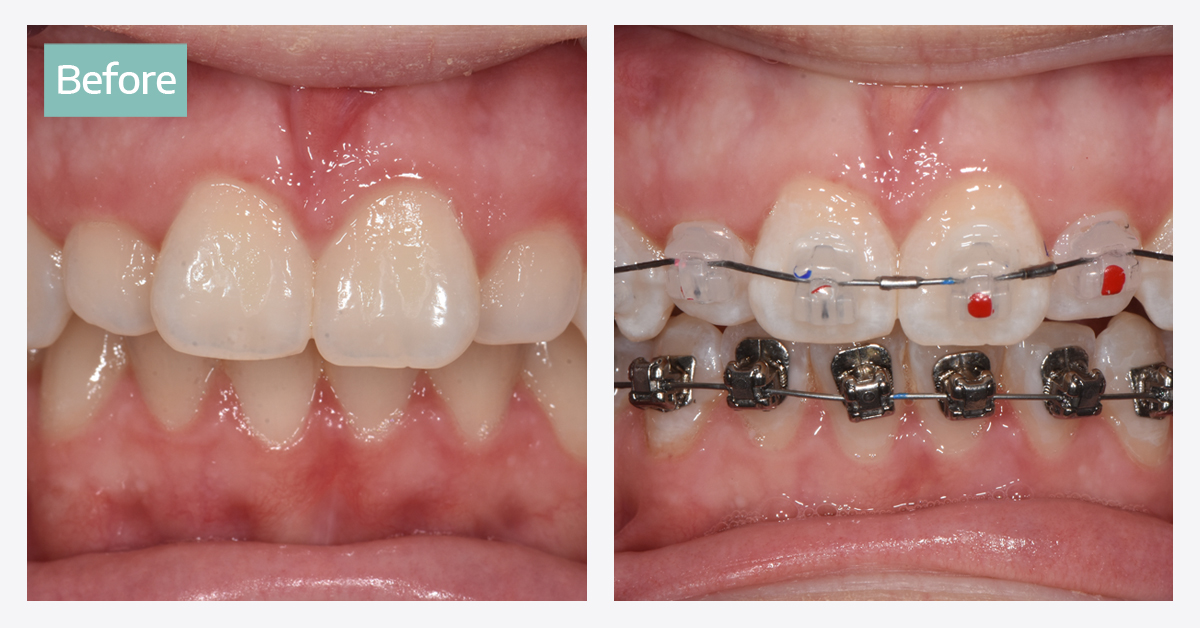 January 2019 (2-week review)
I experienced no pain or discomfort on the day I had the appliance fitted, however the next day I noticed that they were slightly tender. Soft foods helped as it meant I didn't have to focus on chewing hard whilst I was still adjusting to the bite turbos. After 3-5 days the tenderness wore off.
I had a small amount of rubbing but wax and 'Orthodots' soothed this whilst my mouth was adjusting. Orthodots are a new product that the practice is supplying, and they work brilliantly due to the fact that they are moisture activated.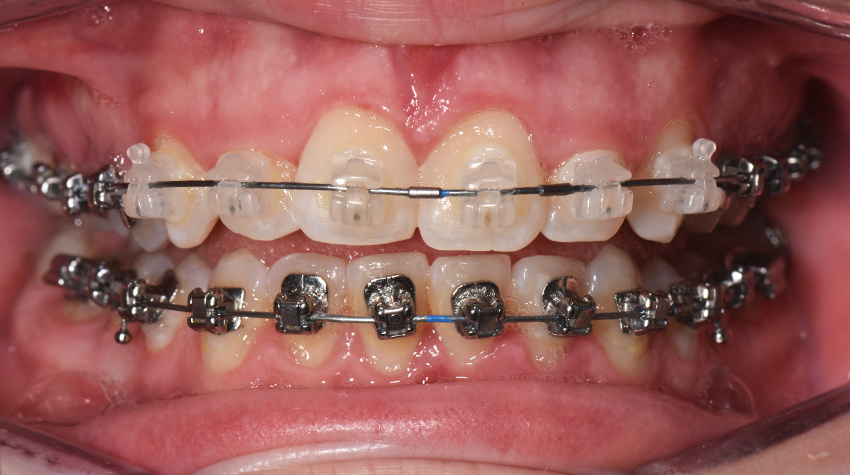 February 2019 (Adjustment 1)
I am pleased with how quickly my teeth have moved. Today I had both upper and lower archwires changed and my bite turbos built up slightly to ensure I'm not biting on any brackets. I also started elastic wear using 'Panda' elastics from my upper canines to lower molars to help with the reduction of my overjet.

April 2019 (Adjustment 2)
My teeth were ready to progress to the Insignia custom made archwires today. We also changed the positioning of my elastics in aid of further overjet reduction. I also had a long ligature placed on my upper teeth to avoid spacing opening from the stronger elastic wear.

June 2019 (Adjustment 3)
As you can see from the image my teeth are continuing to align, however my upper midline is slightly to the right. Therefore, I have now had my elastics changed to a stronger 'Gorilla' strength elastic on the left hand side whilst continuing with a 'Panda' elastic on the right hand side. I also had both upper and lower archwires progressed today to help alignment.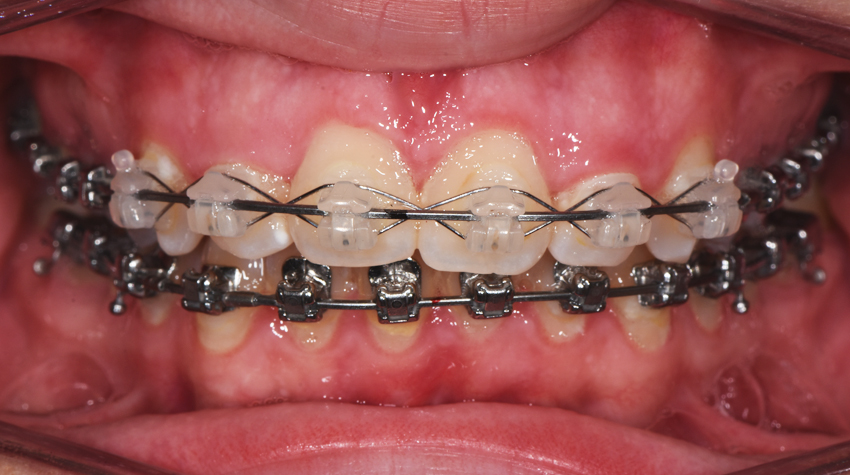 August 2019 (Adjustment 4)
In this appointment, I had the upper archwire changed, however the lower teeth weren't quite ready to progress to a new wire yet. I am continuing with a stronger 'Gorilla' elastic on the left hand side and a 'Panda' elastic on the right hand side to help correct the upper midline.

September 2019 (Adjustment 5)
Firstly, I had the upper central incisor (as highlighted) bracket position adjusted to improve the heights and bring the tooth down slightly to help with the alignment. Due to this, we had to drop back to a lighter archwire to ensure the tooth isn't overloaded. I then had the bite turbo positioning adjusted to my upper canines. This is to help with my overjet reduction and upper midline correction. I am also continuing with same elastic positioning and strengths from the previous appointment.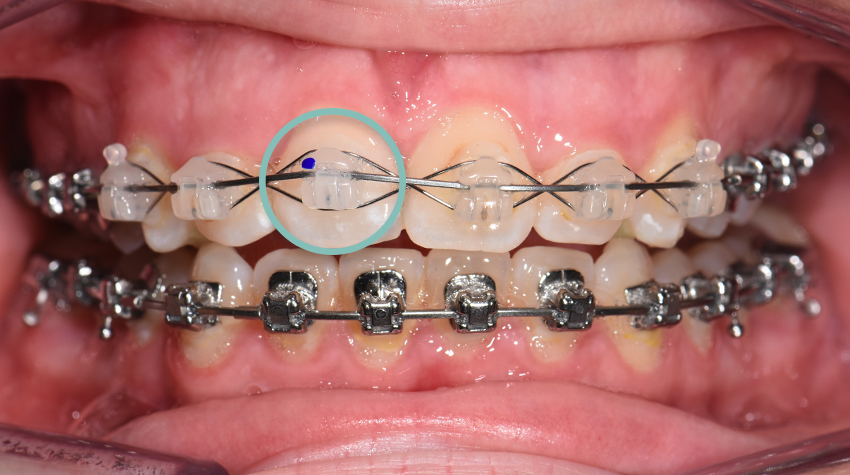 October 2019 (Adjustment 6)
In this adjustment appointment, I had the bracket repositioned on the upper central incisor (as highlighted) to help with alignment. As you can see the repositioning of the previous bracket has helped the front two teeth level out and look more even. I have also had the elastics changed to a 'V' shape position to increase the strength, whilst still using a 'Gorilla' on the left hand side and a 'Panda' on the right hand side. No archwire changes took place today due to the repositioning of the bracket.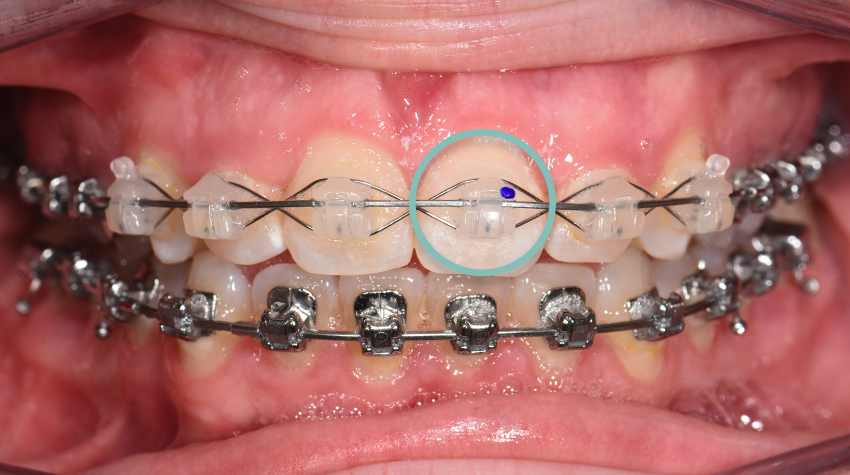 January 2020
As you can see below, the centrelines (as highlighted) do not currently meet and therefore require further work to improve. I have also experienced mild spacing (as highlighted) so have had a 'powerchain' placed on my lower teeth. This is a small elastic that threads throughout the brackets to close any spaces between teeth. Closing the spacing will also help with the centreline correction and make everything look even and straight.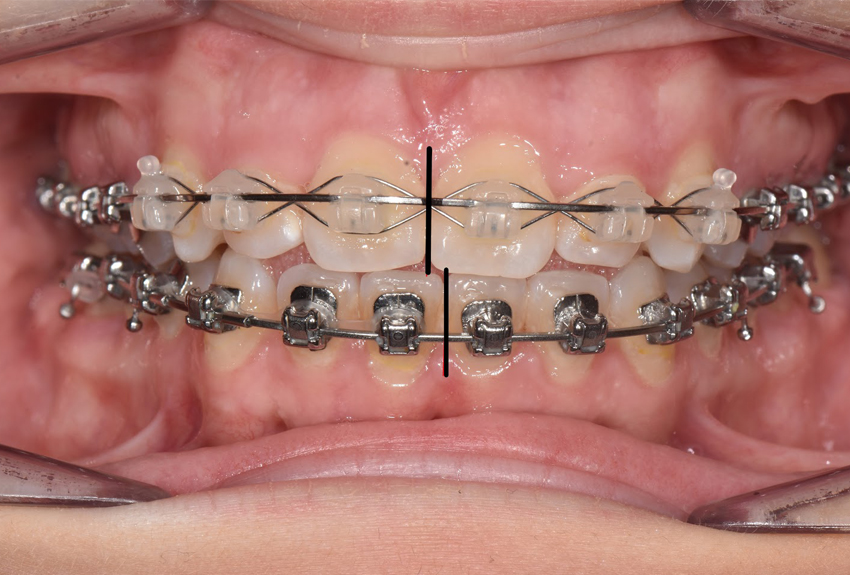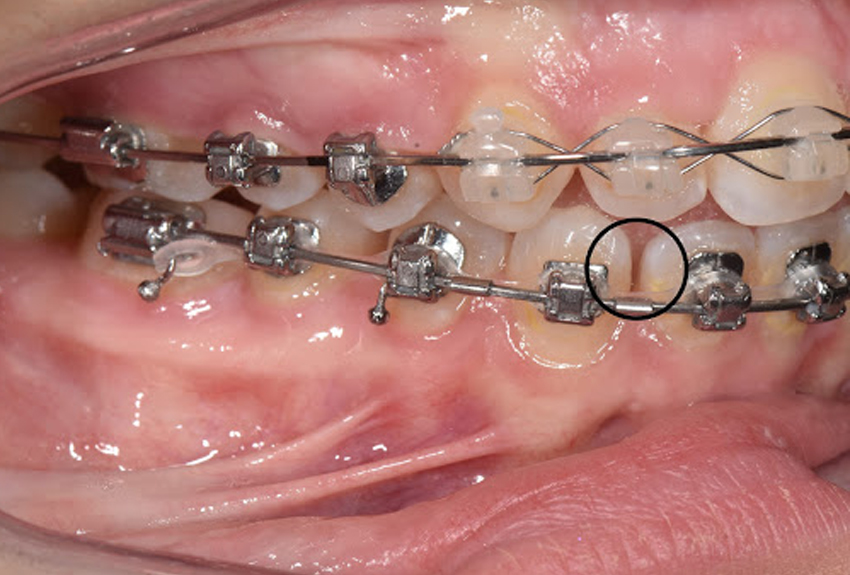 February 2020
This appointment was a quick review appointment to check for final refinements before the decision was made to go ahead for fixed retainers and finishing treatment. We decided to add some bends into the wires to aid with final tooth movements to ensure they are in the best positions possible before having fixed retainers fitted.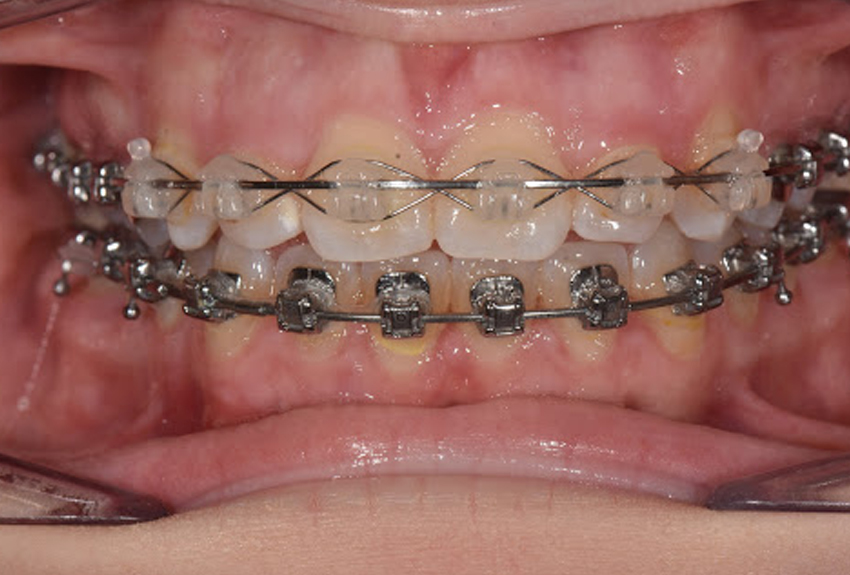 June 2020
Due to the COVID-19 pandemic I did not have an appointment from February until June. In this appointment we were happy with all tooth positions and went ahead with fitting the fixed retainers. Fixed retainers are small pieces of wire that sit behind the upper and/or lower teeth to aid in retention. They are always used in addition to removable retainers. The fitting of the fixed retainers was quick and painless, and will help keep my teeth in the perfect position!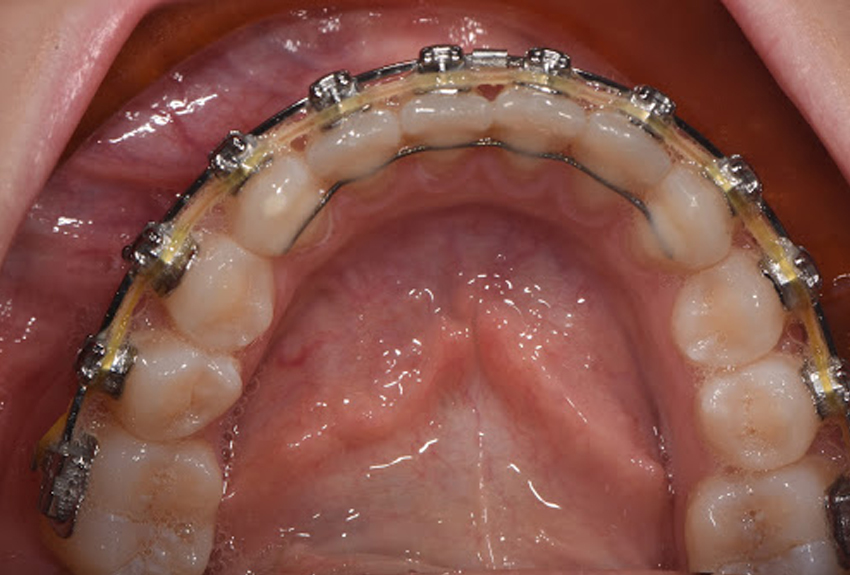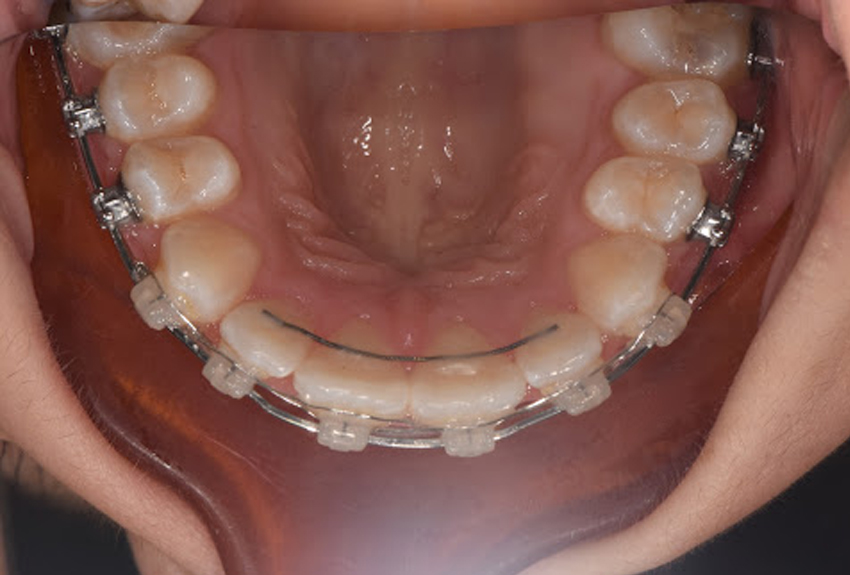 June 2020 – Debond/brace removal
My final result after having my braces removed. I will now continue to wear my removable retainers each night to ensure my teeth stay in these positions!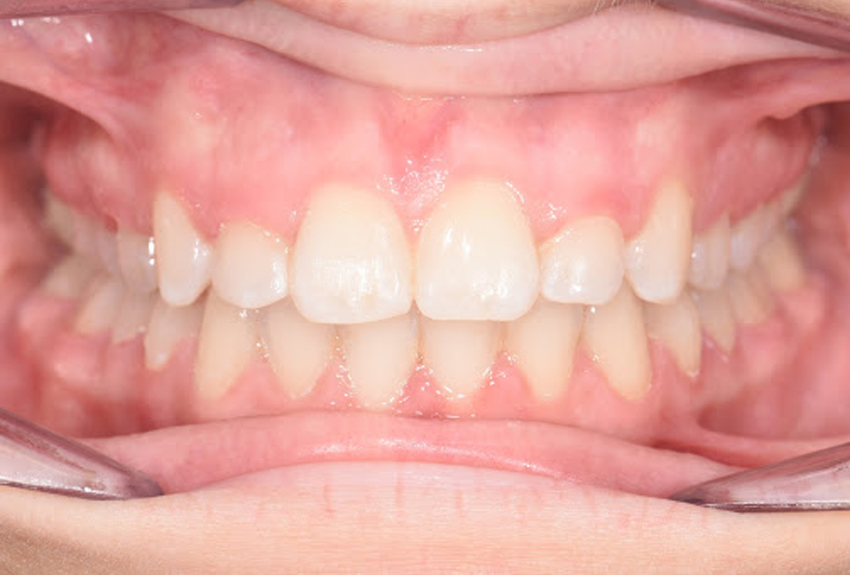 Should you have any questions regarding your own treatment, please give us a call on 01926 883476 – we are here to help!.